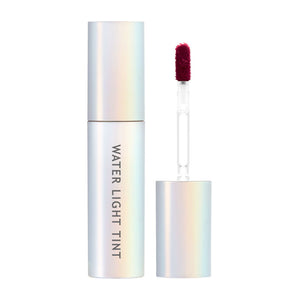 APIEU WATER LIGHT TINT_RD04 Adheres to lips lightly to create a moisturizing luster without the feeling of stickiness.
1. SKILL CHECK # Moisture Water Moisturizing and Oil Smooth at the same time! # Light Texture Double-sided soft hug tips to create tight, dewy lips. #Clear Color Even if you apply it over, it has a clear color. Okay!
2. INGREDIENTS
+ Fruit Peel Oil Complex (Orange peel oil, Lemon peel oil) Add nourishment and glow to the lips.
+ Lotus Flower Water Moisturizing
+ Rose / Peach / Cherry Blossom / Grapefruit / Mango / Orange extract Helps to make lively lips
3. COLORS
HOW TO USE: Gently apply a moderate amount from the inside of lips to the outside.