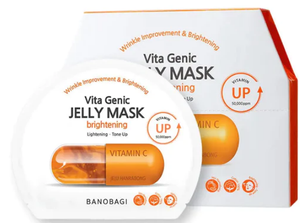 Banobagi Vita Genic Jelly Mask Brightening 30ml
Experience the transformative power of Banobagi Vita Genic Jelly Mask Brightening 30ml. This innovative sheet mask is infused with a waterful, jelly-textured essence that nourishes and revitalizes your skin, leaving it supple, radiant, and deeply hydrated. Enriched with a liposome-stabilized vitamin complex, this mask delivers a potent blend of vitamins A, B1, B2, B3, B5, B7, B9, C, and E, derived from premium natural ingredients. The highly-concentrated essence boasts an impressive 20,000ppm of vitamin complex, ensuring your skin receives the maximum benefits.
How to Use:
Start by cleansing your face to prepare it for the mask.
Carefully attach the mask onto your face, ensuring a snug fit.
Leave the mask on for approximately 10 to 20 minutes.
Gently remove the mask from your face.
Lightly dab your face to help the remaining essence absorb into your skin.
Key Features:
Brightening Effect: The vitamin-rich tangerine extract sourced from Jeju Island works wonders on your skin, helping to brighten and enhance radiance while addressing any discoloration.
Liposome-Stabilized Vitamins: Banobagi Vita Genic Jelly Mask contains 9 types of liposomized vitamins, including A, B1, B2, B3, B5, B7, B9, C, and E, each at an impressive concentration of 40,000ppm. These vitamins are known for their skin-nourishing properties.
Quick and Easy Vitamin Home Care: Achieve healthy, "chok chok" skin in just 15 minutes with this convenient sheet mask. From daily vitamin care to special vitamin care, this mask provides a quick and effective solution for your skincare routine.
Transform your skin with Banobagi Vita Genic Jelly Mask Brightening 30ml and reveal a radiant, revitalized complexion.