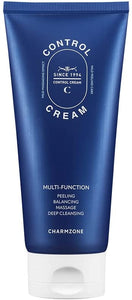 Control Cream
The bible for home care! 38th anniversary control cream the latest award, reborn as a masterpiece of high specs!
Beauty begins on a skin basis. With that very belief, Charmzon's control line
devoted itself to background care that changed the skin's natural health.
Started with true Derma technology, we've made it even better and more
complete with constant product upgrades. Make your skin moisturized and healthy as
if you've had daily esthetic care with the steady-seller control line that has been loved
by women around the world for many years.

It was reborn as a luxury aesthetic spa care massage cream by
collecting only the core specifications of precious control creams.

Feel the skin texture that changes every day with smart background care tips for clear and transparent skin!

Whipped cream texture
The nourishment that you feel as soon as it touches your skin.
Amazing smoothness that rolls without irritation.
Smooth finish with no residue after washing your face.