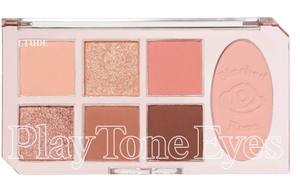 ETUDE Play Tone Eye Palette 6.4g
This palette is the No. 1 choice in the real-time ranking of Olive Young APP/Online Mall. Its finely milled powder adheres comfortably to your skin, allowing you to build up transparent layers of color. With its moisture-rich formula, you can achieve a weightless, water-clear finish. The large-sized glitter particles give your makeup an extraordinary sparkle. It's a multi-functional formula that you can use as a cheek and eye shadow, offering a bright, fresh look without feeling stuffy. With ETUDE's Play Tone Eye Palette, you can create exquisite makeup looks without hassle. Its perfect color combination suits both your eyes and cheeks, simplifying your beauty routine. Each palette is designed to cater to different skin tones and preferences.
Color Feature: 
HOW TO USE: 
Gently apply around the eyes using your fingers or a brush. For high-pearl glitters, apply them with your fingers for better adhesion. You can use it alone as the main color on the entire eyelid, apply it for a teary effect on the underline, or as a bling-bling point for the eyes.