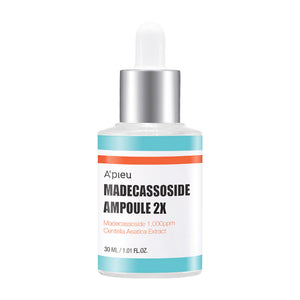 EXPIRE DATE: 2025
A'PIEU MADECASSOSIDE_AMPOULE_2X_30ml
Improve skin with concentrated Centella Asiatica for dry damaged skin

 1. Specialized for skin soothing with a double concentration
and blending of Centella Asiatica and Madecassoside
2. Simplified formulation that refines skin texture
with calming effect for sensitive skin

Contain minimal active ingredients,
artificial color and fragrance-free
3. Concentrated fresh watery type ampoule with rapid absorption power
4. Gently helps to soothe skin by complete absorption without leaving any stickiness behind.
HOW TO USE:

1. Take an adequate amount and apply following the skin texture.
Gently press into the skin for absorption.
2. Mix Madecassoside ampoule and high concentrated Madecassoside gel
for skin damage and texture improvement and calming effect.