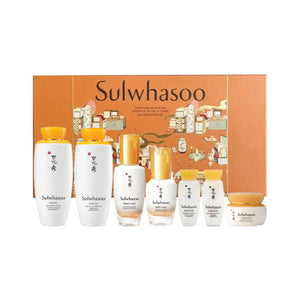 Expiration date : OCT/2024
SULWHASOO First Care Activating Essential Ritual is a premium skincare set formulated with Korean traditional herbs like red ginseng, matrimony vine, purslane, flower extracts and honey.
It provides skin balance using JAUM Balancing Complex, patented by SULWHASOO. Together, these ingredients deliver deep moisture and nourishment. Improving the skin elasticity and texture to reveal glowing, smooth and bouncy skin, to deliver fundamentally healthy radiance of the skin.
This set includes : 
Essential Balancing Water ex 125mL
Essential Balancing Emulsion ex 125mL
First Care Activating Serum ex 60mL
First Care Activating Serum ex 30mL
Essential Firming Cream ex 15mL
Essential Balancing Water ex 30mL
Essential Balancing Emulsion ex 30mL
Key Points:

Premium anti-aging skincare set
Made with Korean herbal and flowers ingredients
Helps to rejuvenate the skin
Smoothen out wrinkles and fine lines
Firming properties
Stimulates skin cell regeneration
Anti-ageing care