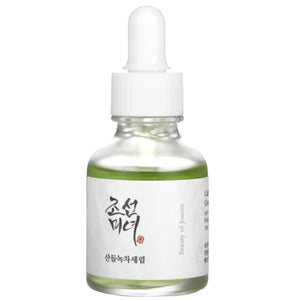 Beauty of Joseon Calming Serum : Green tea + Panthenol 30ml
This serum was created to help soothe skin irritated by UV rays and other external factors.
We selected green tea, an iconic antioxidant, and mugwort, an herb that helps soothe skin, as the base ingredients.
We wanted to maximize the skin protection benefits through panthenol as a way to create the greatest synergy between these ingredients. 

 
Key ingredients


Green tea 50%
'Donguibogan', a traditional medical record in Joseon, records that greean tea keeps the head and eyes clear,
and refreshes the energy. EGCG, which is main component of green tea leaf, helps soothe skin damaged by UV rays.


Mugwort 30%
Mugwort has been a very important ingredient throughout the history of oriental medicine.
It has a warm nature, so when consumed as tea or food, it facilitates metabolism.
As a skin care ingredient, mugwort provides moisture and helps to soothe skin.


Panthenol (Vitamin B5) 5%
As a well-known moisturizing ingredient, Panthenol is converted into vitamin B5 when absorbed into the skin.
It binds strongly to moisture and prevents moisture from escaping, effectively keeping the skin hydrated

30% mugwort extract was added to enhance Calming Serum's soothing effect.
In addition, the amount of panthenol, which protects the skin from external stimuli,
has been increased from 2% to 5% for enhanced moisturization and moisture barrier care.

It has been revitalized as a formula that further enhances the moisturizing and soothing effects of the original version.
How to use

Apply 2-3 drops of serum onto the skin and pat gently to help absorption.