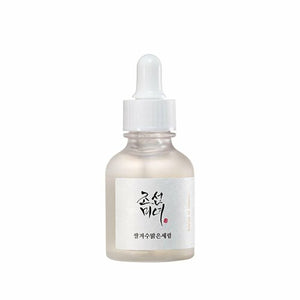 Product Info
Why we love it

This product helps reduce pigmentation on the skin caused by exposure to ultraviolet rays.


Featured ingredients

This product contains 68% of Oryza Sativa (Rice) Bran Water and 2% of Arbutin, which helps moisturize the skin and relieve skin pigmentation.
Oryza Sativa (Rice) Bran Water: Contains vitamin B and minerals that are effective to moisturize the skin and keep it bright.
Arbutin: It is safe ingredient as derived from plant, which helps prevent pigmentation growth.
Grain Complex: Contains extracts from black bean, black sesame, rice, wheat, and mung bean that help keep the skin hydrated.


How to use

After using toner in the morning and evening, take 2-3 drops of this product on the skin and pat it to absorb well.
When using this product in the morning, make sure to apply sunscreen together.
If your skin gets sensitive, reduce the number of times you use this product.
You can mix and use 2 to 3 types of serum for desired effects.