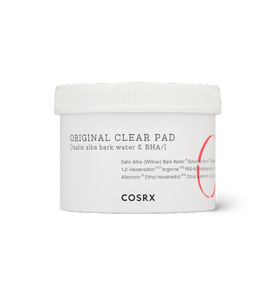 Wipe out excess dirt and apply acne-fighting toner for clear, blemish-free skin
Soft cotton pads pre-soaked in essence to remove dead skin cells and excess sebum.
Description
This award-winning One Step Original Clear Pads are pre-soaked in betaine salicylate, which helps to dead skin cells without irritation and make clear skin tone. Active ingredients help to clear skin trouble, sebum, and oil and reduces acne breakouts and promotes clearer skin. Designed to reduce irritations while cleansing and clearing thoroughly to dissolve impurities and calm complexion.  


  How to Use
1. Swipe the embossing side across the face avoiding eye area after cleansing.

2. Swipe the softer side across the face to pick up the remaining debris.

3. Replace the lid tightly to make sure the pads stay wet and clean.