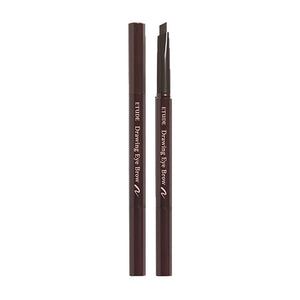 Etude House Drawing Eye Brow [Dark Brown]_0.25g
Anyone can draw perfect eyebrows using a triangular brow pencil that applies smoothly and evenly.
1. Adhesive Lasting Power for your long-lasting brow tails
The proper combination of high-adhesion plate powder, wax, and oil provides a long-lasting eyebrow.
2. Smooth&Even Color Payoff with clump-free drawing
The pencil glides smoothly, delivering evenly colored brows even when layered several times.

3. Neat&Delicate Finish with the pencil's shape and edges

triangular-shaped pencil allows you to draw precisely and easily.
4. My brows But Better!
Delivers natural finish just like your own eyebrows.
COLORS: 
HOW TO USE: 

Draw a guideline along your brows and fill in with a wide side of the pencil.
It's more natural to draw the eyebrow-head-vertically from the roots and upwards as if planting every single eyebrow.
Stroke and naturally smudge the brows with a featured screw brush.
Tips: Gives you natural color payoff with no makeup, and defined&long-lasting finish on oil-controlled base makeup.