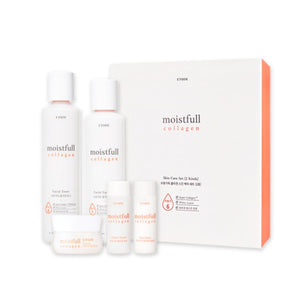 Etude House Moistfull Collagen Skin Care Duo
This skincare duo features fine-particle sized collagen molecules dissociated by hydrolysis, ensuring efficient absorption and deep hydration.
Features
The small particles of the Super CollagenTM water(HYDROLYZED COLLAGEN) in this Moistfull Skin Care Set makes skin full of firming moisture and feeling bouncy.
It includes fine particles of super collagen water, which makes skin bouncy and dewy.
Detail


Contains
Mositfull Collagen Toner 200m1 + Moistfull Collagen Emulsion 180ml + Toner 25ml + Emulsion 25ml + Collagen Cream 10ml


Features
Fine-particle sized collagen for efficient absorption and deep hydration
Contains super plant Lupinus Albus protein for long-lasting moisture
Human skin patch test completed, ensuring gentle and effective results
Soft milk-type texture for easy application
Delivers long-lasting moisture and a healthy glow


How to Use
After cleansing your face, take an adequate amount of the Etude House Moistfull Collagen Skin Care Duo product into your palm.
Gently pat and absorb the product onto your skin, ensuring even coverage.
Enjoy long-lasting hydration and a radiant, healthy complexion.