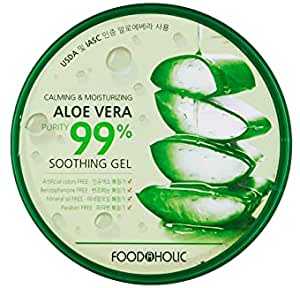 [FOODAHOLIC] Calming and Moisturizing Aloe Vera Soothing Gel_300ml
1. Moisturizing Sleeping Pack
Mix a few drops of facial oil with Aloe Vera Soothing Gel to make into a rich multi moisturizer.
You may use it as a sleeping pack or a daily moisturizer! Moisture-retention level increases with an extra drip of facial oil!
2. Glowing Skin Makeup
Mix makeup primer and Aloe Vera Soothing Gel at the ratio of 2:1. Apply the blend gently over your face to create a natural glowing look.
Keep your skin moisturized all day even with your makeup on!
3. Moisture Replenish for Body
Try using with rich oils like olive or argan oil for double-moisturizing effect! Gently massage and moisturize your entire body.
4. Silky Smooth Hair Treatment
Use it like a hair serum to your split ends for an instant shine & long-lasting rejuvenation.
5. Cooling Eyes & Moisturizing Lips
Place a moistened cotton pad with Aloe Vera Soothing Gel on puffed-up eyes for cooling and on chipped lips for moisturizing.
6. Light Aftershave Soothing Gel
Use as a mild emollient treatment for soothing irritated skin after shave!
Great soothing for men's aftershave and even for women's legs!
7. Hydrating Nail Essence For Healthy Nails
If you are a big nail-art lover, should protect your nails now!
Keep your nails hydrated & healthy simply with Aloe Vera Soothing Gel.