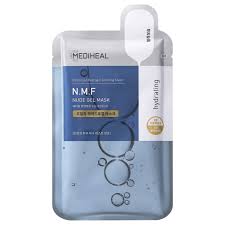 MEDIHEAL N.M.F NUDE GEL MASK 30ML
What is so special about N.M.F Nude Gel Mask?
Nourishing boosting hypoallergenic gel sheet mask with deep collagen ingredient
Perfect moisture combination which help make hydrating skin
8 types of hyaluronic acid/panthenol/5 types of ceramide
■Description
Gold premium upgraded version. Twice more essence.
Helps to balance oil secretion and minimize pores.
N.M.F Aquaring Hydro Nude Gel Mask

Natural moisturizing factors(NMF) are elements that keep the outer layer of the skin protected and well-hydrated. It offers immediate hydration and lasting results with continued use.
■How to use
After washing the face, smooth the skin out with toner. Open the pouch and remove the films of the mask.
Apply the upper part of the mask around the eyes and the lower part around the mouth to keep the embossed side close to the skin.
Leave on for about 10~20 minutes, and then remove the mask.