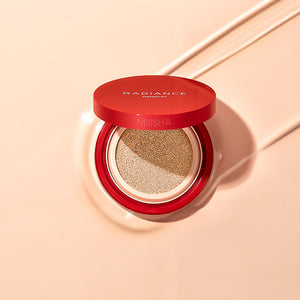 RADIANCE PERFECT FIT
CUSHION FOUNDATION[NO.21N]_15g
48-hour long-wearing coverage with a hydrated yet matte finish!
A weightless foundation that delivers the ultimate coverage for your makeup look.
1. Thin, smooth, perfect-fit, 48-hour lasting cover
Missha's patented Perfect FitTM technology, which achieves the ultimate adherence,
provides thin yet strong adherence and smooth skin texture the correction that
can be maintained for 48 hours without smudging.
2. High-density cover! Breathable seamless texture!

Fine cover powder, which uses a microparticle technology,
provides a highly dense cover and non-stuffy feeling of use even
after long hours have passed since application.
3. Moisturizing yet matte finish
5 MOIST LOCK COMPLEX* keeps skin moisturized for long hours
to prevent evaporation of moisture.
COLORS:


HOW TO USE:
Take a moderate amount and apply on the face in the direction
of skin texture in a light patting motion

Recommended:
– Those who want cushion providing thin adherence
– Those who want a long-lasting cushion while maintaining a comfortable feeling for long hours
– Those who want a cushion that does not dry out