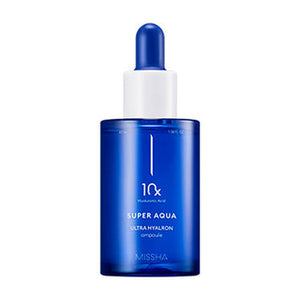 MISSHA SUPER AQUA ULTRA
HYALRON AMPOULE_47ml
Anti‐wrinkle / Skin brightening
1. 10-layer hyaluronic acid
10 kinds of hyaluronic acid with Super Aqua's
"10 expert hyalron complex" is moisturizing the skin.
Fresh calming + β-Glucan + "10 expert hyalron complex"

2. Cooling down skin temperature by sun damage
Ideal for wrinkle improvement and brightening.
Soothes sensitive skin, dry skin, red skin by summer heat.

3. Light and Thick texture
Water ampoule texture full of moisture
that is not sticky or stuffy

HOW TO USE: 
Apply an appropriate amount
evenly along with the skin texture.