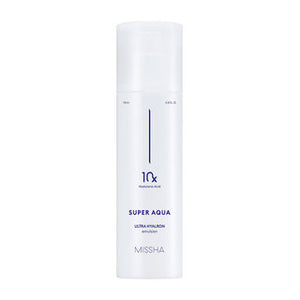 ABOUT THIS PRODUCT
MISSHA Super Aqua Ultra
Hyalron Emulsion _130ml
Oil & moisture's new balance
1. New skin balance by moisture
Tightens up skin by filling oil and moisture balance.
2. Get moisturized by Aquaporin
Various sizes of 10 hyaluronic acid molecules
deliver moisture through Watergate.

3. Hypoallergenic, mild formula
The mild formula with skin-friendly ingredients
works gently on the skin.
HOW TO USE:
Apply a generous amount after toner.
Pat lightly for full absorption.