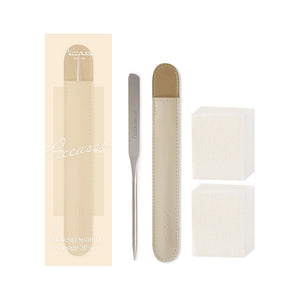 Piccasso x HamKyungSik Makeup Spatula Sponge 2P Set
Achieve a thin and smooth base effortlessly with the Picasso X Ham Kyung Sik Makeup Spatula. This exceptional tool is the result of artist Ham Kyung-sik's expertise in various base makeup techniques, making it the go-to choice among makeup artists who understand and appreciate the benefits of using a spatula.
Features:
Express a thin and smooth skin texture with ease.
Create a light and natural cash-on base that blends seamlessly with your own skin.
Hygienic stainless steel tool that can be easily wiped clean with a tissue.
Durable construction ensures long-lasting use.
Comes with a leather case for convenient and clean storage.
Portable design makes it easy to carry wherever you go.
How to Use:
1. Apply an appropriate amount of liquid foundation onto the Picasso Mini Mixing Palette for easy access.
2. Set the spa tulle blade of the spatula at a 90-degree angle and pick up the foundation onto the blade area.
3. Hold the spatula at a 90-degree angle and gently spread the foundation thinly onto the desired areas, mimicking the motion of lying down.
4. Use a sponge or puff to blend the foundation into the skin, ensuring an even and natural finish.
Tip: After each use, wipe off any product residue on the makeup spatula with a tissue and store it securely in the provided case.
Experience the new world of base makeup with the Picasso X Ham Kyung Sik Makeup Spatula, designed to make your makeup application process easier, more precise, and hygienic. Achieve a flawless base that looks and feels like your own skin, whether you're a makeup artist or a beauty enthusiast.