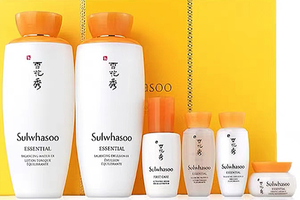 A special set composed of Sulwhasso Essential balancing Water EX and Emulsion EX. with legendary Asian herbal medicinal science, Sulwhasoo delivers fundamentally healthy radiance of the skin.
Product Details
【Essential Balancing Toner】(125ml+15ml)Gel-type toner infuses skin with deep hydration and moistureThe properties of Matrimony Vine relax the skin while Purslane provides hydration, leaving your skin with a delicate veil of moisture.

【Essential Balancing Emulsion】(125ml+15ml)This fluid lotion leaves soft, supple skinMountain Peony extract softens and refines skin texture while Yai Jiu Hua helps improve skin clarity.
【Essential Firming Cream EX】(15ml)JISUN Firming Complex TM Strengthens the skin resilience bearing powerJISUN Firming Complex TM, including Lycium Chinense, Black Soy, and Arrowroot Roots, would help to form a resilience-bearing skin structure. Leads to strengthen the skin resilience bearing power.
【First Care Activating Serum】(8ml)- Magnifying effects of subsequent skincare: applying directly after cleansing, it helps to boost the subsequent skincare product's absorption and results.- Youth Master Technology: enriched with JAUM balancing complex™, plus Korean herbal extracts, skin is improved in 6 aspects – nourishment, radiance, shininess, tightness, translucence and strength.- Activating youth factor: revitalizing EGR3 to strengthen skin resilience, skin is repaired, and becoming more elastic and healthy.
Capacity : 
1x Sulwhasoo - Essential Balancing Water EX - 125ml
1x Sulwhasoo - Essential Balancing Water EX - 15ml
1x Sulwhasoo - Essential Balancing Emulsion EX - 125ml
1x Sulwhasoo - Essential Balancing Emulsion EX - 15ml
1x Sulwhasoo - Concentrated Ginseng Renewing Cream EX - 15ml
1x Sulwhasoo - First Care Activating Serum EX - 8ml